"Australia the world's happiest place"
The Organisation for Economic Cooperation and Development's (OECD) in 2014 revealed Australia as the world's "Happiest" Industrialised Nation, for the fourth consecutive year.
The so-called "lucky country" toped the Better Life Index in the 2014 "How's Life" report.
The dimensions measured include Income, Employment, Education, Health, Environment, Safety and Life satisfaction.
Australians enjoy above average quality of life in nearly all of them.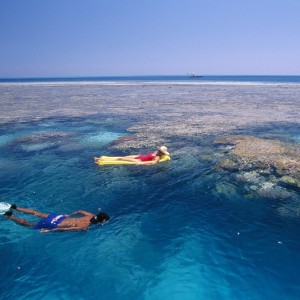 "Australia the Highest in Human Development"
The United Nations in their Human Development Index (HDI) for 2014 ranked Australia as Second out of 187 countries for the fifth consecutive year.
The UN index measures
Income Per person
Education
Life Expectancy
Photo Slideshow
Australia's Benefits
If you live, work or study in Australia, you will experience many of the following benefits:
Average income per full time employed adult $A78,000 Australians "richest people in the world" with assets of USD 402,600 per adult Average household owns 2 or more cars 68% of Australians own their home
Second lowest tax in OECD Countries First $18,000 nil tax $0-$80,000 17% tax
Lowest unemployment rate of any Western economy Work 35-38 hours per week 4-6 weeks' annual vacation 10 days sick leave
Australia's economy is the 12th largest in the world GDP of US$1.5 trillion with an average growth rate of 3.5% No recessions for 21 years
Highest secondary education rates in the world Highest tertiary education rates in the world of 83% 39 world ranked Universities, 67 vocational colleges 1100 educational institutions 22,000 courses Adult literacy rate 99% Worlds third ranked Education Provider to International Students Visa system provides graduates opportunity to work 18months to 4 years
82 years average life expectancy, second only to Japan Free universal government health insurance; Medicare Superior health outcomes to other western countries
47.7% of population were either born overseas or have a parent born overseas Four million speak a language other than English. Over 260 languages are spoken Identify with more than 300 ancestries. Over 260 languages spoken
47.7% of population were either born overseas or have a parent born overseas Four million speak a language other than English. Over 260 languages are spoken Identify with more than 300 ancestries. Over 260 languages spoken
Low pollution rates 1.1% of world emissions USA : 14.1%
93% of people know someone who can help them in time of need 65% reported having helped a stranger in last month
93% of adult population vote OECD 72%
83% say they have positive experiences every day
Employers are required to pay an additional 9.5% of income to your retirement fund If your average age is 25 years and you retire at 65 your fund will be worth over $500,000 based on an average income annually of $78,000
Pensions Child care allowances Medicare universal health insurance 100% cover of population Maternity leave payments
People & Culture (Population 23 million) Shared Values
Freedom of speech Democracy and rule of law Equality of opportunity Peacefulness Egalitarianism; tolerance, mutual respect No discrimination on basis of birth, race, gender or religion
People & Culture (Population 23 million) Shared Values
Freedom of speech
Democracy and rule of law
Equality of opportunity
Peacefulness
Egalitarianism; tolerance, mutual respect
No discrimination on basis of birth, race, gender or religion